---
📡 The Society of Communicators And Networkers International
The Society of Communicators and Networkers, International (SCAN) is a non-profit and service-oriented organization. It aims to provide communication and information assistance, promoting the significance of maintaining amateur radio communication. Its volunteer members continuously undergo communications training, emergency response, and disaster preparedness to respond quickly and effectively in adverse situations. It further conducts relief and rescue operations and supports socio-civic programs, thus serving society. The organization members exemplify the true meaning of loving our fellowmen.
---
"Saving lives is our priority."
---
---
Ham Radio
Ham radio remained the most reliable and enduring tool for communication. Its significance, especially during emergencies and calamities, has been undeniable through the centuries because it is independent of telecommunication companies' infrastructure. SCAN International continuously conducts ham radio lectures, seminars, education, and training. The forum provides the members a better chance of passing the licensure examinations and becoming official and licensed two-way radio users.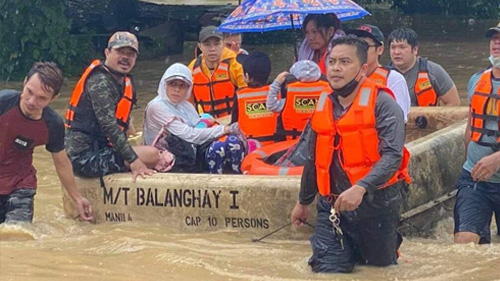 ---
Disaster Response
Proper use and efficient radio communication equipment and setup can help prevent and recover from floods, earthquakes, typhoons, fire, and other disasters. The use of the same is not limited to a hobby but also life-saving actions. Hence, disaster prevention and rescue response are among the duties of SCAN International members. With our members' capability and acquired training, they are ready to help our fellowmen whenever we can because it realizes our motto, "Saving lives is our priority."
---
Socio-Civic
Another significant role of amateur radio communications is that ham radio groups and individual radio users can work jointly with other volunteer groups and socio-civic organizations under common objectives beneficial to the community. SCAN International also supports socio-civic actions. The members regularly promote and perform civic engagement endeavors to benefit the community, such as tree planting, clean-up drive, public and private motorist assistance, and other related activities.